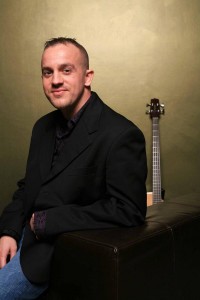 First of all, I just want to thank you for visiting my site and please check back often, as we are constantly adding updates. A lot of my bio, credentials, awards/accomplishments etc… can be found on the About Jason page, but I just wanted to share a little of my teaching style with you, to give you an idea of what to expect with my lessons. I feel that I'm a lot different than most voice teachers and your traditional voice lessons. I truly have a strong passion for helping others reach their music and vocal goals and I'm constantly working to improve my teaching style, to offer the highest quality vocal instruction and to make it as productive as possible. To be honest, I don't have a set way or "blueprint" that I follow for each lesson and student. I've always designed my lessons according to each individual student and their specific goals and needs. In my experience, I see so many teachers that try to teach their "text book" methods to each one of their students, in the exact same structured style and the student ends up spending a lot of time and money with no results. I believe that each student is different. Our voices are different, our bodies and mind are different and the way we receive and process information and instruction is different. So I always try to design my lessons in the absolute best possible way, for that particular student. My lessons are very laid back & stress free, but we cover a lot of information in a very short amount of time. My goal as a teacher is to give the student the knowledge they need, to be able to reach any vocal goal and continue building their voice on their own, long after their time with me.
I enjoy working with students from all walks of life, ages, genres and skill level. I firmly believe that ANYONE can learn to sing and actually learn to do it very well! It just takes some people a little longer than others to get there and some people have that natural musical talent, where it comes to them very easy. Regardless of current skill level or talent, I feel it is very important to establish a strong, all-round vocal foundation. I believe that if this foundation is built properly, then you will be able to continue adding to this for a lifetime and all future improvements will continue to fall in place correctly. This, in turn, creates consistency, quality, longevity and confidence in your all-round vocal skills. I have my own foundation list that I use and with most students, we will cover this list early on, making sure we get the right mindset for this journey. I use various exercises, scales and techniques to sorta "trick" the voice into working properly, creating drastic, immediate results that quickly develop into proper vocal delivery & technique. Sometimes we might make some funny sounding noises (lol) some of the exercises might seem like they have nothing to do with singing, but rest assured…these exercises are strategically designed to develop your all-round voice, in a very short amount of time. I spend the majority of my focus on the area from the bottom of the throat, to the top of the head. You can have all the correct posture in the world, but if the technique is not right from the bottom of the throat, to the top of the head, then you will still have problems. I focus on freeing the voice first. This might sound silly coming from a voice teacher, but when a student first comes to me, I don't worry about their current vocal tone or quality. It doesn't bother me in the least, if they can't even "carry a tune in a bucket"! No matter the vocal quality, I want to get the voice fully released and learn to vocalize without strain and establish correct vocal cord closure. Think of it like this… You have a railroad track, that goes from the bottom of your throat, all the way up & out the top of your head. Now, you have another track (still connected to the "main" track) but this one, branches off and goes straight out your mouth. Now, you have another track (still connected to the main track) but this one curves off & goes straight out your nose. So, you have one track that goes up & out your mouth. One that goes up & out your nose & both of those are connected to the main track, that goes up & out the top of your head. Now imagine you have a little coal mining, train car. (something like Indiana Jones would ride in) Ok, this represents your actual voice! The goal is to have your voice (the little train car) to have the freedom & ability to move all along the railroad track, with no restrictions. Notice, it's ONE connected track…representing ONE voice. You can think of it as chest voice (the track out your mouth) Head voice (the track out the top of your head) and mix or pharyngeal (or the silly nasal sounds and this is the track that goes out your nose) There's obviously a lot more to this, but this is a little visual that I like to use, to help get the right mindset of a released voice. Once the voice is feeling released & you're vocalizing without strain, all the other things start falling into place much easier. Understanding proper vocal cord closure and a released voice, is VERY important and I always try to start with this. In a very short amount of time, you will understand the topics of my all-round foundation list, which are:
Proper Warm Up
Breathing – (lung conditioning/proper air flow)
Cord Closure & Compression
Pitch & Scales
Chest Voice, Mix and Head Voice
Vocal Fry
Lip Rolls
Dynamics
Range
Resonance
Proper Practice
There's several little "sub-categories" that go along with these topics, but understanding what each of these mean & the exercises that go with each, will give you the knowledge you need, to build a very strong, all-round voice and reach your vocal goals!
extend your range – learn to sing harmony – vocal blending – improve vocal tone – pitch and ear training – increase vocal power and presence – stylistic singing – proper dynamics and delivery – freeing your voice – talking to singing – proper vocal techniques – proper warm ups – proper air flow – all-round vocal foundation – performance and stage training – competition training – songwriting – beginner lessons and much more…
Well, hopefully this has given you a little insight into my teachings and beliefs. Obviously, no 2 lessons will be identical and many times, I get students seeking very specific things like preparing for a performance or a competition. No matter what your needs are, I would be honored to help in anyway that I can! If you have any questions about my lessons or just any questions whatsoever, please feel free to contact me and I will gladly respond and discuss these things with you. Thanks again for visiting my site and I hope to hear from you soon!
To purchase your lessons, click HERE
Jason Leek